[lmt-post-modified-info]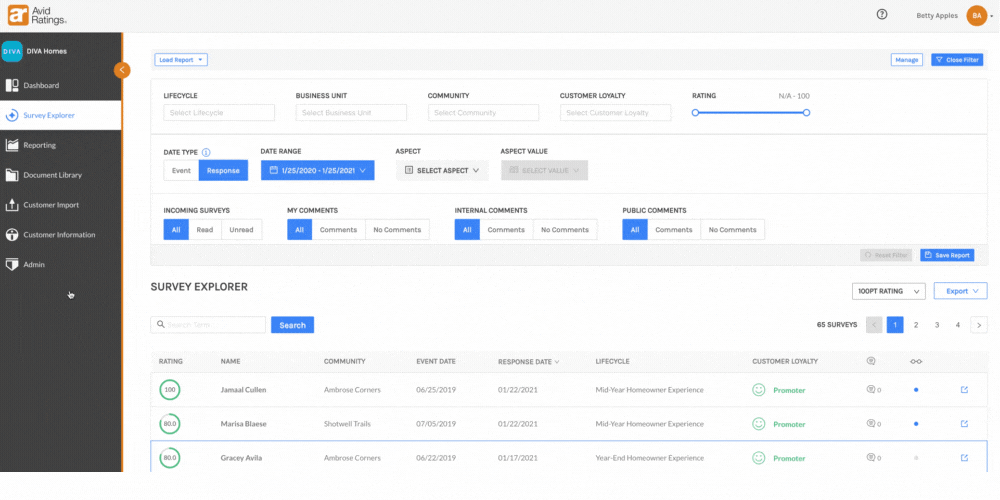 Have you seen a decline in your survey scores and wish there was an easier way to "deep dive" into your data and figure out exactly why? Maybe you've been seeing negative online reviews about your walk-through process and you want to pinpoint the exact issue to resolve it.

With AvidCX, users can access Group View, a tool that bundles survey questions into categories. Users can view each question within a category and how a customer scored them. This tool helps users better understand individual customer experiences and uncover any trends in low-scoring areas of the customer journey.
For example, a user notices their walk-through process is scoring low. They can view each question in the walk-through category and see which specific question(s) was rated low by the customer. They discover the touchpoint "perception of items listed for correction" is scoring poorly, not only for this one customers but for many. Now, the user can work to understand this issue further and come up with a resolution. After a change has been made, they can go back to this same touchpoint on future survey responses to determine if the changes have improved scores.
---
How to Access Individual Survey Responses within AvidCX
Step 1: Click Survey Explorer on the left navigation menu, then click on a customer's name.
Step 2: In the customer view, scroll down and click on the Group View tab.
Step 3: Once inside the Group View, click any of the question categories to further evaluate scoring. (Below categories responses will be listed.)
Step 4: Users can also export all survey questions to a PDF by clicking the Export button on the top right.
(Please note: Exporting questions will show responses for all survey categories, not just the categories selected.)
If you are an AvidCX user and have any questions about the Group View feature, please contact your Client Success Manager.